A few years ago this stretch of the canal was a fairly open space. But the new building at 103 Camley Street has totally overshadowed the canal.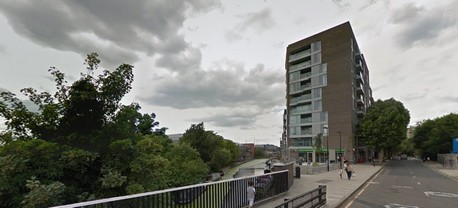 And now there are plans to dwarf number 103 with an even taller building on the Ted Baker site. This will create a canyon effect once and for all. If you are any doubt that the building heights are disproportionate to the width of the waterway then take a look at the scaled down image of Tower Bridge superimposed onto the Regent's Canal.
By the time these projects are completed the Regent's Canal will be reduced to a street level drain in comparison to its overpowering neighbouring objects.