24 February, 2017
Simon de Bruxelles
Stepping off a canal towpath and on to a narrow boat was for many years a short cut to peace and tranquillity - but off-the-beaten track has become an overcrowded address, it seems.
Britain's waterways are becoming increasingly congested as a growing number of people take to boats to beat the housing crisis. Unaffordable prices for homes on dry land have encouraged thousands to live on the water, where the costs are far lower.
However, the permanent moorings in London are now all taken and the canals are home to more than 1,600 water gypsies: houseboat owners who have to stay permanently on the move.
Many fear that rising property prices will inevitably lead to similar demand in other cities with canal networks, such as Birmingham, Manchester and Cambridge.
The number of "continuous cruisers" has risen from 638 in 2012 to 1,615 last year, an increase of 153 per cent.
Fran Read, of the Canal and River Trust (CRT), which administers 600 moorings in the London area, said: "There just aren't as many permanent moorings in London as there are boats. If you are bringing a boat into London the chances of you getting a mooring are pretty slender. A high percentage of continuous cruisers say that if they could get a permanent mooring they would take one up."
A recent survey of 1,323 London boat dwellers by the CRT found that more than half were doing it for financial rather than lifestyle reasons.
The trust, which looks after 100 miles of London waterways apart from the tidal Thames, says house prices and a spate of magazine articles about the low cost of living on a house boat are responsible for the increase.
Some users complain that London's canals are becoming as congested and stressful as the M25. If they leave their spot to refill their water and fuel tanks there is no guarantee they will find a mooring when they get back. Sometimes they have to travel dozens of miles to find somewhere else to tie up.
Many actively prefer the life of a water gypsy: unlike permanent moorings, which can cost thousands of pounds a year, temporary moorings are free.
"If you go to places like Islington, like King's Cross, like Broadway Market, then the sites will often be busy with boats moored two abreast," Ms Read said. "If you go to fill up your water there might be a queue to do it. You can be looking at spending half a day just doing those chores."
A boat licence costs £50 a month and is issued after the CRT has checked that the vessel is watertight and insured. A narrow boat can cost as little as £12,000 to buy but requires regular maintenance, particularly if it is often on the move. All services, including sewerage, are the responsibility of the owner.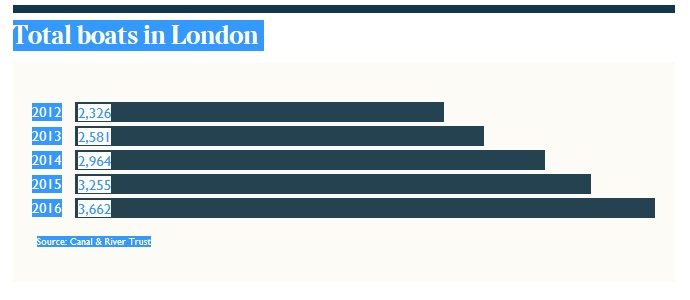 Andrew Denny, a blogger known as Granny Buttons after the name of his narrow boat, tried to tie up on the Regent's Canal recently but found someone blocking the mooring.
"He said he was keeping it for his friend who'd gone to get water," he said. "That sort of thing is frowned upon but I couldn't force him, and I didn't want to tie up alongside him after an argument, so I moved on.
"People have cottoned on to the fact that you can live on a boat very cheaply compared to an apartment. It is putting an immense pressure on services.
"It's become a game of musical chairs. It's got to the stage where instead of saying, 'I'll stop here tonight and move on tomorrow', you stop for the night and stay for two weeks.
"It is putting people off visiting London. The route between Little Venice and Regent's Park is a motorway."
'It's cold and crowded but I love it' Despite a childhood spent boating, Craig Reeves did not consider living on the water until he visited a friend with a boat in London (Peter Yeung writes).
One afternoon rekindled that youthful fascination "and I fell in love with it", he says. "I bought my own boat about a month later."
The 31-year-old works in commercial advertising and has been a "continuous cruiser" for more than two years, but says there are pitfalls. "When there's a storm your boat rocks all over the place. You have to empty your toilet and fill up with water every couple of weeks.
"You're living in a confined space and you have to rely on your log burner for heat. It gets very cold and I was going to sleep with ice on my bedroom ceiling."
Despite the downsides, he has seen the rapid rise of life on the water: "You're told, if you're a young person, that boating is the only way not to pay astronomical rent in London. It's not, but that attracts more people to the waterways, which are already clogged up," Mr Reeves added.
"People are buying boats in droves and filling up the waterways. The Canal and River Trust seems to care more about the ducks - and we are getting pushed further and further out of the capital."